Cities are cool places to explore. And the best way to do that is by following a guide that has selected all the best spots, shops, restaurants, hotels, cafes and clubs that your next destination has to offer. 
But the travel books for cities are too bulky to carry around. They are also sorted and configured the wrong way: all the shops in a shop section, all the museums in the museum section, etcetera. What you actually plan to do is
enjoy a complete day
. With a morning activity (or a few), a good lunch, then some afternoon activities followed by a good dinner, and if you've got energy left you might like to visit a bar or club. 
That's where Easy City Guides are different. There is no book. Easy City Guides consist of handy credit-card sized cards that help you create your perfect and complete days on your city trip. You only ever need four or five cards with you to enjoy your day. No carrying bulky books, no more checking apps and reviews. Just your selection of fun things you'd like to do for that day. And for the next day, you pick a new set.
Example of one city guide card. It shows the activity and explainer text. It also contains the address and public transport connections with the stop where you need to get out. 
The cards describe the best restaurants to go to, the most amazing museums and galleries, cafes, clubs and venues but they also also give sightseeing and shopping tips. Each card describes one activity.
A simple color-code is applied to distinguish AM and PM activities. You only need two morning activities and two afternoon / evening activities to create a good day in town.
In the AM you can visit a morning market for instance. Or have a good brunch. Or visit one of the selected museums. In the PM there's room for cycling along the canals, and then a good dinner at an outstanding restaurant, to name some possibilities.
A great example of a set of cards that will give you a full day of typical Amsterdam things to see and do. This is all you need for a day. No hassle with browsing books or websites.
IT DOESN'T HAVE TO BE THIS HARD
Easy City Guides are so much easier than reading maps or having your nose in a smartphone all the time. Imagine all the stuff you have to read up on and organize and bookmark... when it can be so much easier to explore the best a city has to offer.
All you need to carry with you for half a day of activities you'll never forget. Even a random pick of cards from the deck will get you sorted.
NOT JUST A GUIDE, BUT A UNIQUE SYSTEM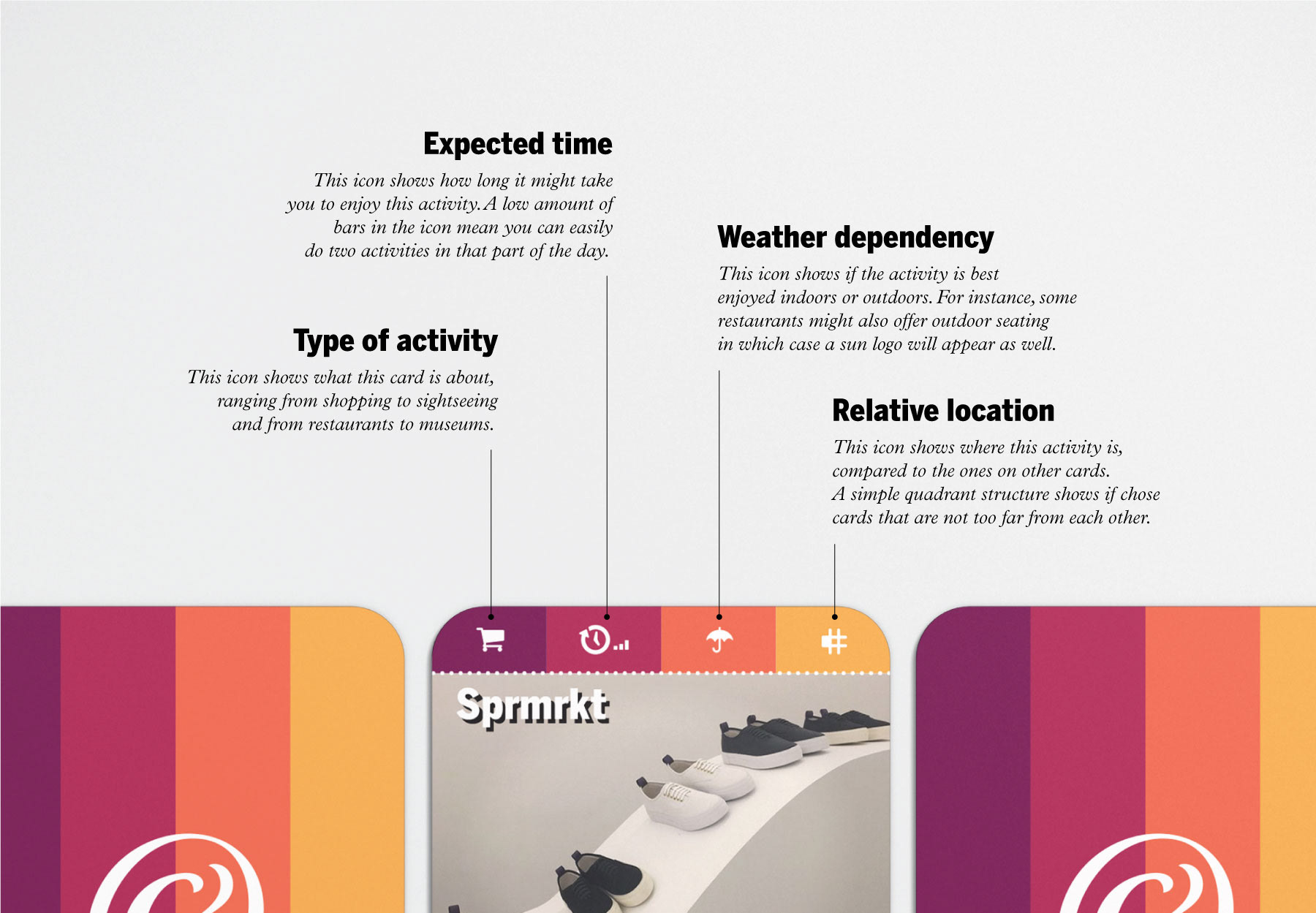 The icons in the top bar of a card give you an idea what to plan for the next day. Here you'll find handy information about the type of activity, the location, time to spend, and weather dependency.   
Four cards would already be enough for a fun day: two activities in the morning, and two activities for the afternoon. But you can add as much as you like if you feel particularly curious and energetic.
The cards come in a little case that's easy enough to pop in your luggage. 
You can get the product at book stores in the travel section, at gift shops and in the online store of Easy City Guides. The collection of cities is ever growing. 
The back of the case explains a little bit more about the Easy City Guides.
The inside of the case is printed with a collection of icons that represent all the things you can enjoy in your newfound city. It gives the packaging that extra little touch of distinctiveness. 
This is what the entire package looks like. With the color-coding and icon system clearly on display.
So, we've seen that the AM and PM activities are easily distinguishable with the simple color code. But not all of the cards have these backs. Some are special and different...
Not every card has the color bars running all over the back. Special mentions get a slightly different back. This is when the team of Easy City Guides has found something exceptional you'd like to experience at the chosen activity. Like a stand-out meal at a restaurant.
The afternoon & evening tips are color-coded in blue hues. The differences in PM activities are further represented by their icons and descriptions.
The morning activities are color-coded in orange hues. The differences in AM activities are further represented by their icons and descriptions.
The hotel cards have their own special color-code, icons and atmosphere. As these are not carried around on your days in town, they are in a league of their own.
The backs of the hotel cards have a beautiful copper colored foil applied to the logo.
Extension packs will be available to customize the deck more to your specific needs. If you travel as a family you might want to add the Kids Extension. Or if you are more of a culture buff then you can load up on more galleries, events and music venues.
If you're a publisher of travel guides looking for a unique new way of helping out travelers with this city guide system, then please contact Tenzing for further development and production engineering. Remember, Tenzing is your design sherpa, here to help your business reach new heights.